Azul Safari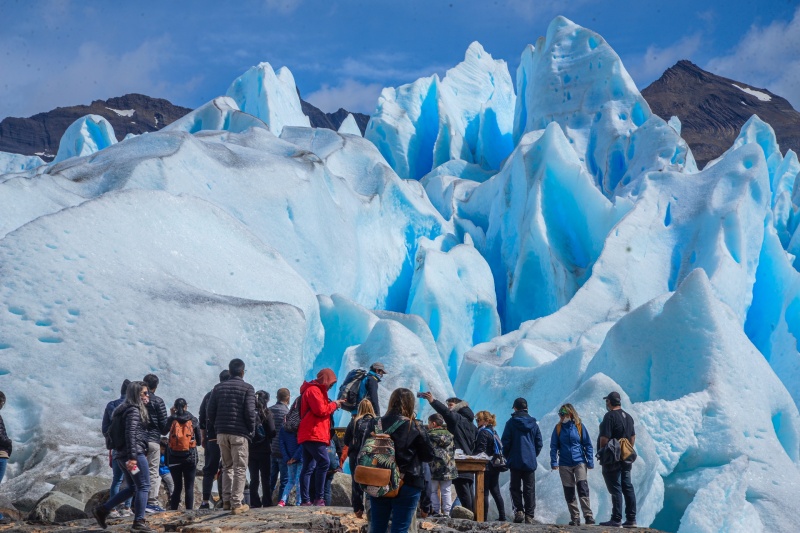 The Blue Safari is designed for those who, in addition to sailing in front of the Perito Moreno Glacier, dream of touching it and enjoying it up close. In this new excursion we will get to touch the glacier with our hands!
The tour begins in El Calafate when the bus leaves for Los Glaciares National Park. Once in Puerto Bajo de las Sombras, just 7 km from the footbridges, we will take a boat to cross Lago Rico and, after sailing 20 minutes, we will disembark on the opposite coast.
Little by little we will walk for 30 minutes always with a view of the southern wall of the Glacier in case we are surprised by some thunderous landslide and once next to the ice it will be time for an unforgettable experience… touching the Perito Moreno Glacier itself! There we will fully enjoy its intense and varied blues, whites and its capricious shapes.
We will have time to take many photos and then we will return to the embarkation point always accompanied by an experienced guide. The total walk is approximately 1.30 hours through a natural terrain of sand and stones with some slopes and stairs. The route, one and a half kilometers long, will be along the shore of the lake and through a lush forest with a view of the Glacier.
Finally, we will take the boat to appreciate from the water, and a few meters away, the entire southern face of the glacier and be able to see every detail of the marbled icy wall. Once in the port, we will take the bus to the footbridges, where we will have 2 hours to enjoy the incredible panoramic view. In addition, they will be able to take advantage of this time to consume the food that they must bring from El Calafate.
02902 492 205
Av. del Libertador n° 1359
Season
Starts operating on February 1