Craftsmen's Walk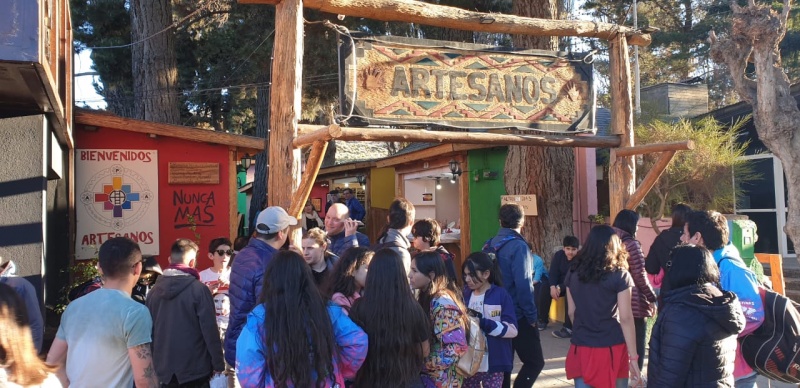 On the tour you will find a wide variety of regional products and items made from the raw material that the city environment provides. Among the most frequent works are mates, paintings, articles in leather, ceramics, stone, silverware and textiles.
Regarding the mates there are a variety of specimens, of various materials and shapes. Some of the most chosen are those of carved wood, pumpkin, glass lined in leather, cane, etc.
Local painters and sculptors create beautiful and fine paintings and sculptures to decorate homes. Images painted with oil and watercolor, on relief, invade the positions of local artisans. Ideal to take as a souvenir or to give to a loved one, these paintings recreate landscapes and postcards of the picturesque Calafate.
Specialists in the tannery, use the leathers obtained from animals raised in the fields of the region to produce elegant accessories and jobs. In the stalls you will find fine wallets, mattress bags, wallets and accessories such as belts, briefcases, purses, hats, among others.
The artisans specialized in ceramics and cold porcelain exhibit impeccable sculptures, goblins, little burners to perfume, vessels, paintings. Other handicrafts very frequent in the walk are the articles made with stones. Pendants, hoops, bracelets, key chains, charms, decorative elements, etc. Some of the most worked stones by Calafate artisans are Rhodochrosite, Onyx, Lapis Lazuli, Fluorite, Tiger's Eye, Coral, Agatas, Malachite, Andean Opal and Amethyst. Each of these stones is set with metals to make crafts. The most commonly used metals are silver and alpaca.
Last but not least, in the stalls you will find delicate fabrics made with sheep and llama wool. With the techniques of the loom, the two-needle fabric and the crochet, make fine clothes to wear during the cold days of winter.
Av. del Libertador al 1120 (al lado de Correo Argentino)