Trekking Cañadon de los Fosiles in Ea Cristina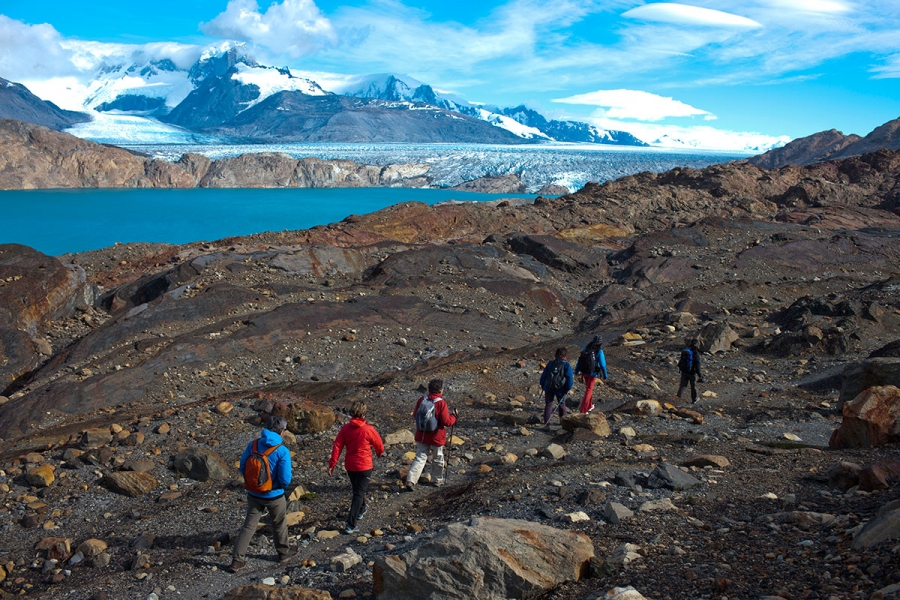 When you leave the port of Punta Banderas at 8:30, you begin to navigate the North Arm of Lake Argentino to reach the allowed limit of navigation on the Upsala Canal, and thus have a panoramic view of the front of the homonymous Glacier. After disembarking at Estancia Cristina, the small group that will carry out the TREKKING will be assigned a 4 × 4 vehicle with a specialized guide.
It will begin to ascend the Feruglio cord, the 9.5 km that will lead us to where the vehicle will be left, for once there, start a walk, to reach the Mirador of Upsala Glacier, with views of Lake Guillermo and the imposing Eastern front of the Upsala Glacier and the Southern Patagonian Continental Ice Field. From here, the 14kms trekking will begin, to enter the Cañadón de los Fósiles, an area where a large concentration of fossils is observed, with unique characteristics, vestige of the last marine entry and that have been discovered by glacial action. Trekking is constantly decreasing. During this journey there will be a break to take the food (optional) and continue walking until you reach the Estancia Valley, and then head to the boarding beach.
02902 491133
Av. del Libertador Gral. San Martín 1033
Degree of difficulty
Demanding
4x4
Cruise ships
Trekking / Hiking